( back to BATracer Racing Manager Game main page )



Classic 97 Racing Manager Game
Classic 97 runs in the BATracer game engine.

This 24-car GP '97 set has a good spread of competitive cars both at the front - and at the rear with 4 teams squabbling over the wooden spoon. There are lots of upgrades throughout the season directed toward certain teams.




Cars
Dart

Practically a new team with funding by Todd Warburton boosting the budget and the talents of designer Jan Braveheart joining the team Dart look to usher in a new era of success.



Wallace

After scoring both titles last season Wallace have to be title favourites once again with a well designed car and Reno power. Can this successful team land both titles again or will rivals steal their glory?



Team Wales

Slowly regaining their former glory after years of just not being good enough. Three wins last season have given the team confidence. Can they take a huge leap forward this year?



Beleton

Things post-restructuring have been anything but rosy for Beleton. Unable to take a win last season for the first time in four years. Will they manage to reclaim their titles and fight at the top or will the aging lineup be exposed.



McLewis

Several seasons of rebuilding have been undertaken by the team from Woking. Promising testing plus a talented driver lineup means that maybe McLewis can upset the apple-cart once again and push for wins.



Jodran

Freddie Jodran has slowly made steps towards the top with the plucky Irish outfit. Can Jodran make those final steps towards the podium or will unreliability and bad luck yet again take precedence on their season.



posRT

The French "Ligar" team has been aquired by computer corporation posRT. Can his experience lead the team to better results? The new Rockbridge tyres have given the team hope from their testing performance.



Bauber

Bauber have always been in the background since their arrival to GP racing. However with rebadged Welsh engines now at their disposal can they begin a movement to the front and success?



Rytell

The new car is unique and takes a unique approach to the current design rules. However, the lack of title sponsorship and funding in general looks to hamper the team for yet another season, as well as an underpowered engine.



Rinaldi

The team now has funding and interest from Beleton man Bravio Minotauri and look to move forward after years of mediocrity and poor performance. The car is solid but the engine is significantly underpowered.



STEWA

The Scottish team ran by three times champion John Simms along with his son. The new team are looking for a solid debut season but troublesome testing with many mechanical woes has hampered the cars development.



Loller

Forced by sponsors Mistresscard to enter a year earlier than planned the teams entry has been in complete dissarray. No proper testing and lack of windtunnel times leave the team with a woeful chassis and a lot of time to make up.


Engines
Reno RS9 3.0 V10

V10 Power supplied by the Reno Manufacturer.



Welsh 0/2 3.0 V10

V10 Power supplied by the Welsh Engines manufacturer.



Mernandez FO110F 3.0 V10

V10 Power supplied by Mernandez.



Moogun-Hinda MF-301HB 3.0 V10

Its been a while since the dominant McLewis days but HInda have steadily been improving their V10 powerplant.



Retrogas SPE-01 3.0 V10

Welsh Engines now supply one year old engines to Bauber rebadged as Retrogas power.



Yahama OX11A 3.0 V10

Yahama have produced a decent V10 engine for Dart.



Pogo A14 3.0 V10

Pogo have endured a topsy turvy time as a GP engine supplier.



Bart 830 AV7 3.0 V8

Underpowered and Unreliable. Not the best method for success.



Ffordd ED5 3.0 V8

Rytell have year old Ford V8's but at least they are reliable and a proven engine.



Ffordd VJ Zed-Tec-R 3.0 V10

Ffordd's V10 power behind their works team in GP.



Ffordd ECA Zed-Tec-R 3.0 V8

Another V8 Engine previously made by Ffordd. To power the Mistresscard Loller Outfit.


Tyres
Greatyear

Slick Soft - Goodyears Softest Avaliable Slick Tyre
Slick Hard - Goodyears Harder Dry Tyre
Intermediate - Wet Tyre for Moderate Wet Conditions
Rain - Goodyears Wet Weather Tyre
Heavy Rain - Goodyears Extreme Wet Tyre



Rockbridge

Slick Soft - Bridgestones Softer Dry Tyre
Slick Hard - Bridgestones Harder Dry Tyre
Intermediate - Bridgestones Intermediate Tyre
Wet - Bridgestones Wet Weather Tyre
Extreme - Bridgestones Wet tyre for horrid conditions


Events Calendar

Melbourne
Australia - 9th March

A fast and challenging circuit, Melbourne is a great season opener. Overtaking isn't easy, and a good setup is important.



Interlagos
Brazil - 30th March

Brazil stills yearns for a new superstar like the late great Senna, the race continues to improve. The same however cannot be said for the facilities or the tarmac. The infamous bumpy nature of this track and breaking up surface will need to be mastered.



Buenos Aires
Argentina - 13th April

Argentina hosts another round of the GP Championship. Whilst the city may be interesting fans of the track itself are few and far between. Twisty, tight and minimal overtaking oppurtunities can frustrate even the best of drivers.



Imola
San Marino - 27th April

The principality continues to give Italy an excuse for a second race. Many safety changes have been made in recent times and the high speed nature of the track have been replaced with a stop-start "follow the leader" track.



Monaco
Monte-Carlo - 11th May

The jewel of the calendar continues on. Known for its choas and crashes as much for its glitz and glamour. Subtle changes have been made around the track.



Barcelona
Spain - 25th May

The Spanish race has never been a crowd puller and the heat and humidity can add to these. One dilemma for the teams though is the abrasiveness of the circuit on tyres. It will be a difficult challenge setup wise for team and driver.



Montreal
Canada - 15th June

The Canadian race is usually a sellout. The track while simplistic is enjoyed by the drivers but many will struggle on brakes.



Magny Cours
France - 29th June

A modern autodrome deep in the centre of France, drivers will note it for it's long haul up the hill into a slow right hander which is by far the best overtaking point.



Silverstone
England - 13th July

A very famous circuit and the modern home of motorsport for many. There are some fantastic sweeping bends - especially near the opening Beckets section. This is generally a high speed circuit, though is still vulnerable to the British weather.



Hockenheim
Germany - 27th July

The long blasts into the forest have been as much a fixture on the GP calendar as the glitz of Monaco. Engine power, torque and tractions are highlighted here but the incredible strain on the engine makes reliability a worry.



Hungaroring
Hungary - 10th August

The teams have visited the eastern block since 1986 and despite a layout not encouraging brilliant racing there has been some memorable moments here. The Finns adopt it as their home race also with support high for their drivers.



Spa-Francorchamps
Belgium - 24th August

Without a doubt the true drivers track. Set in the Ardennes forest means the weather has always been a factor here. Impressively rain has managed to affect proceedings at one points in the weekend for every race since 1992.



Monza
Italy - 7th September

The seasons's second homage to the days of insane speeds and lack of safety. The high chicaces post a challenge and the tyre bales add an extra precautionary measure.



A1-Ring
Austria - 21st September

First time in over a decade premier single seater racing returns to Austria. Whilst not comparable to the speeds managed at the Osterreichring the layout is ideal for overtakking and speed. With the lap around 70 seconds one of the shortest race distances on the calendar.



Nurburgring
European GP - 28th September

Germany enjoys a second race this season - masked under the viel of being called the Luxembourg Grand Prix.



Suzuka
Japan - 12th October

Designed as a test track for Hinda by John Hugenholtz; Suzuka has emerged as one of the world's most demanding and rewarding motor racing circuits.



Jerez
Spain - 26th October

Safety changes to Estoril not being ready in time mean the season finale has moved to the testing venue of Jerez. With so much testing done here already a cracking race shouldn't be expected, especially with a circuit that much prefers bikes to cars.




Classic 97 Racing Strategy Game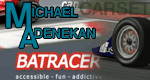 This series is a model of a classic GP season.

Points

1st - 10
2nd - 6
3rd - 4
4th - 3
5th - 2
6th - 1

Upgrades

With the tyres companies at war pushing the development window to the edge tyre upgrades are aplenty with softer and softer compounds being used race on race however at the detriment of tyre durability come race time.

The tyre companies are not alone in their push for success. The battle between the engine companies means that upgrades are fast and furious in many different areas. However again the cars have proven to be more unreliable as performance gains were found.

Setup

With the intention of reducing the number of cars with 100% setups, it is a little more tricky to get setup feedback in this carset.

Credits

Michael Adenekan

Steve Bridge - Car Performance Discussion
Kevin Smith - Car Performance Discussion





More Carsets

GP 2013 inspired GP Manager Game
( More Info on GP 2013 )

The all new GP 2013 Season, featuring updated cars, calendar and stats. Yet more close racing.



GP 2012 inspired GP Manager Game
( More Info on GP 2012 )

The updated GP 2012 Season, now tighter and more competitive than ever! A mammoth 20 races and the introduction of a new US circuit.



GP 2011 inspired GP Manager Game
( More Info on GP 2011 B-Spec )

The updated GP 2011 Season, now with a new tyre model, more compounds, and easier overtaking.



GP 2011 inspired GP Manager Game
( More Info on GP 2011 )

The GP 2011 Season, featuring different tyre behaviour, DRS and the return of KERS.



MS GT Challenge
( More Info on MS GT Challenge )

Short-mid duration GT races, for those that enjoy playing LMES but are not fans of the endurance format! Split-class racing.



V8 Supercars 2010
( More Info on V8S 2010 )

The exciting V8S 2010 Championship is one of the toughest Touring Car Series in the World. The fierce Manufacturer Battle rages, with supporters as passionate as any, this diverse championship is a tough one to master.



GP 2010 inspired GP Manager Game
( More Info on GP 2010 )

The GP 2010 Season, featuring the most anticipated season for a decade or more. New teams, new rules, more cars on track, no refuelling.



Classic Trans-Am
( More Info on Classic All-American Series )

Classic American muscle cars from 1966-1972 racing on the old format tracks. 10 different custom-paintable cars each with their own traits.



Formula 3
( More Info on Formula 3 )

Custom Formula 3 themed including a climax at the Macau GP. Unique features: Build a custom team from 64 unique combinations of chassis, engines and tyres. No single combination is the best! Up to 4 cars per team.



GP2
( More Info on GP Two )

GP Two is inspired by a real life GP feeder series. Race in equally matched single seaters at many of the GP venues - Sprint and Feature races. Build up a new team from the beginning.



DTM
( More Info on German Tourers )

Inspired by a famous European championship - featuring weight ballast "success penalties" and single car teams. Build up a team from the beginning.



GP 2009 inspired GP Manager Game
( More Info on GP 2009 )

The GP 2009 Season, featuring the most radical shakeup in years. New rules, a new team and the new Abu Dhabi circuit add to the action.



Indy 500
( More Info on Indy 500 )

The Indy 500 race - 200 laps spread across 5 x 40-lap stages allowing you to modify strategy and hone your setup mid-race. 37 entrants but only 1 winner. 2008 car data with gameplay enhancements. Unique Features: Multi-Day Single-Race Oval



2008 Indycar Series
( More Info on 2008 Indycar Series )

The 2008 IndyCar season - the first season after reunification of the two North American open wheel series. Features large grids, close racing, multiple liveries per team and more.



Champcar Championship v2.0
( More Info on Champion Cars v2.0 )

This is an updated edition of the original carset, but with updated car and track graphics and a full complement of '95 liveries. Miami and Indianapolis are now also included! Based around the classic PC game Indycar Racing 2.



GP 2005 Strategy Simulation
( More Info on GP 2005 )

The 2005 GP season. A unique year in modern racing, where only one tyre is provided over the course of a race, and drivers must pick their race strategy before qualifying.



GP 1999 Grand Prix Championship Season
( More Info on Classic 99 )

The GP 1999 Season. A good competitive GP-style set of the old school. Single tyre supplier helps level the field all the more.



GP 1997 Championship Game
( More Info on Classic 97 )

This 24-car GP '97 set has a good spread of competitive cars both at the front - and at the rear with 4 teams squabbling over the wooden spoon. There are lots of upgrades throughout the season directed toward certain teams.



GP 2008 GP Manager Game
( More Info on GP 2008 )

The GP 2008 Season, featuring 2008 car data, new teams and liveries, as well as the new Valencia and Singapore Street Circuits.



MR2 World Series
( More Info on Mid-Engined World Series )

A world tour of racing, in a series of wildly differing events. Road / Race classes offer 2 very different challenges for race strategy.

Unique Features: 2 classes and Variable race format.



GP 2007 Racing Manager Game
( More Info on GP 2007 )

The GP 2007 Season, featuring 2007 car data, One tyre manufacturer, new teams and liveries, Fuji Speedway and Spa on the calendar.



Le Mans Endurance Series
( More Info on LMES v2.0 )

Build your own GT team. GT, GTS, LMP1 and LMP2 classes. Unique Features: Long endurance races, 4 different classes on track at once, unique rules, 22 cars to choose from!



Classic 1986 GP Manager Game
( More Info on Classic 86 )

A classic 1986 Season, featuring long races without safety cars or refueling. High failure rates can be frustrating, hence:
Warning! - this is not a series for the beginner!



V8 Supercars
( More Info on V8S )

The highly competitive V8S championship inspired by V8 Supercars, featuring sprint, endurance and reverse grid racing.
Warning! This is a very long season, only join this game if you have the commitment to complete a full season.



A1GP Grand Prix Manager Game
( More Info on Formula Nations )

An A1GP-inspired championship, consisting of individual drivers driving for their nation. Unique features: A1GP-style race format, no teams, no excuses - identical cars! Warning - not for the inexperienced player, this can be a very frustrating series.



Champion Cars
( More Info on Champion Cars )

Based around the modern Indycar/CART period 1995-onwards. Unique Features: Choose chassis, engine and tyres. Team sizes from 1-3 cars! Fragile cars. Circuit and oval racing. Custom car painting!



GP 2006 GP Manager Game
( More Info on GP 2006 )

The Formula One 2006 Season, featuring 2006 car data (in theory, more overtaking and less reliability) and rule changes such as fewer tyre sets.
Note: Due to the complexity of this years qualifying, it has been simplified to a single session.



British Tourers
( More Info on British Tourers )

Build your own touring car team. Touring and Production classes based on current and recent seasons.
Note: Old Batracer v2.x legacy series.

Unique Features: Split class championship.



BAT Seven Challenge
( More Info on BAT Seven Challenge )

Race a variety of Seven type cars around Bookatrack.com race and airfield circuits.
Note: Old Batracer v2.x legacy series, some graphics and gameplay elements may be of reduced quality.

Unique Features: Lack of qualifying session maximises the racing. Many team creation options and ways to win; unique circuits.



GP 2002 Fantasy Grand Prix Racing Game
( More Info on GP 2002 )

The GP 2002 Season. Classic points system.
Note: Old Batracer v2.x legacy series.

Unique Features: Fixed team setup as per real season. Challenging array of car setup options: for experienced players only.